Home of the Knuckle Pod Mounts!
Steerable Accessory Mount Applications: US Patent No. *11,254,259* & *11,524,622*
Heated Wiper Blades - Great for Snow!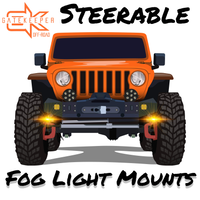 Steerable Fog Light mounts!
Steerable "low-level" Lighting is not only functional Off-Road but great for everyday night driving or navigating dark rural areas.
The safety factor of being able to see better around bends is a huge benefit, especially if you have tinted front windows!
Check out our mounts using the button below, and if you don't see your vehicle in the list than it has not been tested yet. We will get to each application as soon as we possibly can!
Thanks for choosing Gatekeeper Off-Road,
The ONLY steerable lighting on the market!
Shop Now
Testimonials
I had these installed in less than 30 minutes. These are legit. They mount the lights in a place that allow for full range of motion without the light hitting the tire/wheel or any steering/suspension components. If you think they would be a cool addition to your build just pull the trigger and buy them!

Trenton Kight
These mounts are amazing quality and will be amazing for our late night overland trips in the gladiator! The company has been very helpful and they have amazing customer service! Jacob has answers every question I've had! Will be ordering another set for my wife's gladiator here soon! THANK YOU GUYS SO MUCH!

Chris Mercer
I have a set of these brackets on my LJ and they are a game changer being able to mount a set of lights at axle height. Being able to have the lights go in direction where you steer make them great rock/trail lights and perform great as fog lights being lower to the ground.

Jeremy Chou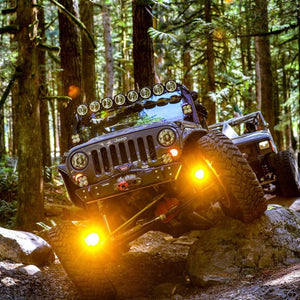 Watch a Review and Install Video Below by the Florida Trail Stompers